Understanding eSync: What banks & lenders need to know
For banks and lenders offering receivables finance products, our eSync product type combines the speed and simplicity of invoice discounting with factoring-level visibility and a streamlined borrower experience. This article is designed to help lenders and banks understand if eSync is right for them and their clients.
What does 'eSync' mean?
eSync is a type of lending product ('facility') that lenders and banks can offer to their clients in our lending OS.
For lenders, eSync provides the same operational efficiency and simplicity as bulk invoice discounting-type products, with the high level of client visibility offered by factoring-type products.
For clients, eSync provides a simple, streamlined borrower experience, to save them time and effort compared with traditional invoice finance products.
How does eSync work?
Connectivity
Instead of uploading their ledger to their Dancerace e3 Client Access system via CSV, clients connect their online or offline accounting system.
Their financial and management information is pulled automatically from their accounting system, ready for processing by the lender in the lender's Dancerace c3 Backoffice Control and Insights systems.

Processing
The lender has enhanced visibility of their client's data and can process it at speed:
When a new ledger is received from a client's accounting system, c3 compares it with the previous version and identifies new and closed items. Lenders can process these items with a single click. Alternatively, lenders may configure rules to automatically accept incoming ledgers.
c3 keeps a dynamic reserve that reduces the risks associated with invoices being closed before collections are received, or collections received before invoices are closed.
Lenders can analyse the management data and FI uploaded from their clients' accounting systems in their Insights system.
In addition, lenders can also 'write back' payments and collections to their clients' accounting systems. This means clients no longer need to record payments and collections manually. (This Writeback feature is currently only available for Xero accounting systems.)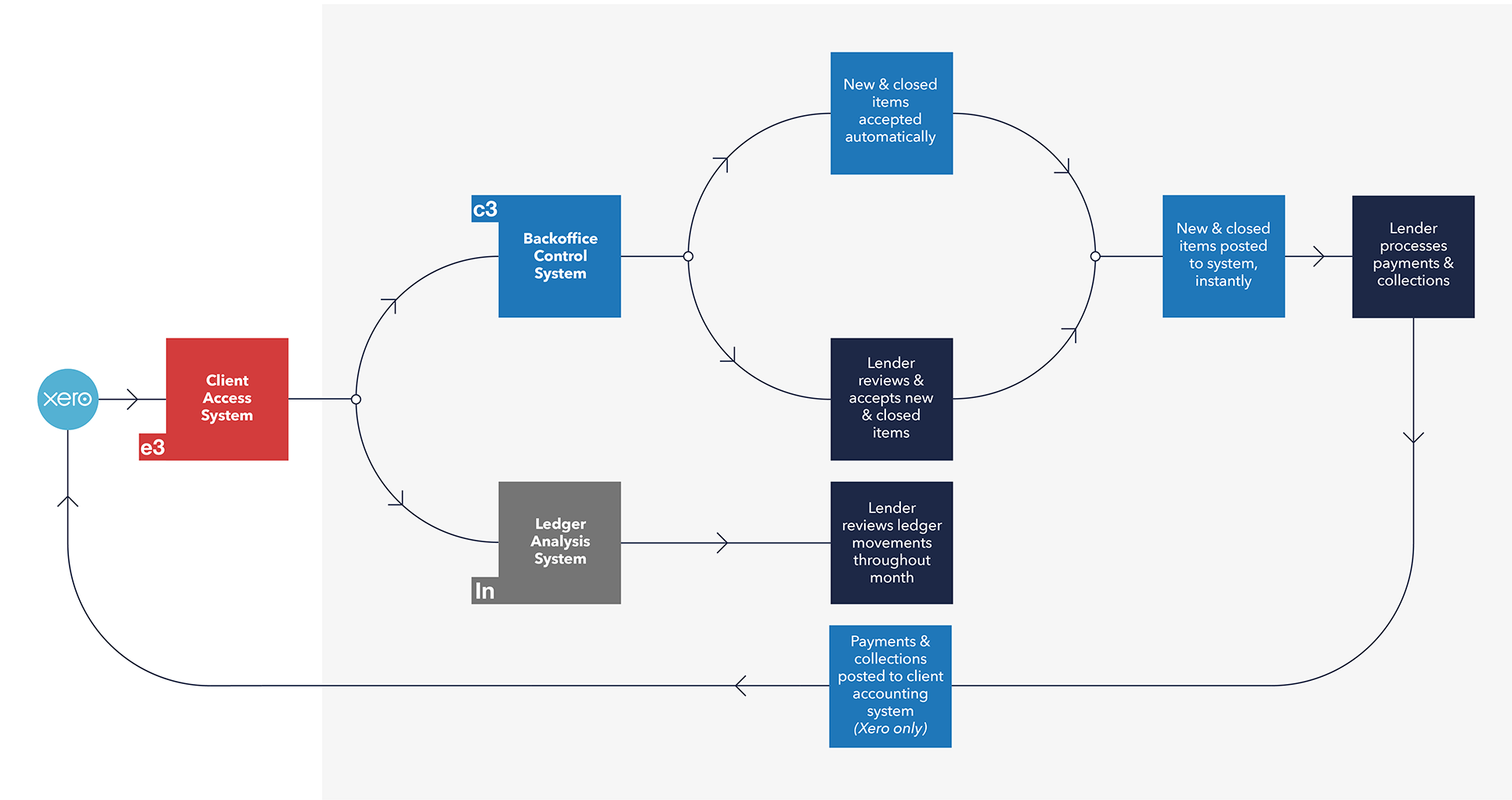 Compatibility & technology
Lenders can offer the eSync product type with or without Bad Debt Protection (BDP), and on a single-debtor basis.
To offer the eSync product type to clients, lenders must have the following features enabled in their client-facing e3 Client Access and lender-facing c3 Backoffice Control systems:
Data Extraction
Xero Writeback (if the lender wishes to 'write back' payments and collections to their client's Xero accounting system.)
Both Data Extraction and Xero Writeback use Open Accounting technology to connect lenders and clients' systems to clients' accounting systems.
What benefits does eSync offer lenders and their clients?
Less work for lenders
eSync products are extremely efficient to manage, like an invoice discounting facility. With eSync, one client manager can manage 70+ clients:
Clients schedules are uploaded directly from clients' accounting systems, and processed by lenders with a single click. Lenders can set rules to enable ledger items to be posted automatically.
Lenders manage client ledgers on an exception-basis, rather than building 'parallel ledgers' using uploaded CSVs.
Lenders are not required to do month-end reconciliations or allocate collections.
Reduced risk for lenders
With the eSync product type, lenders have access to extensive ledger data from their clients, like with a factoring facility:
Unlike with bulk invoice discounting, lenders don't need to rely on a single ledger figure provided by their client or wait until month-end to spot issues in client accounts.
Client data is more accurate because it's taken directly from clients' accounting systems, and there's less opportunity for lenders to make mistakes in manual processing – including misallocation and overfunding.
eSync gives lenders visibility over their clients' ledger activity throughout the month, enabling them to respond quickly.
Lenders know when dilutions occur, without contact from the client.
Increased visibility gives lenders the flexibility to make funding decisions more quickly on customer funding limits, concentrations, high involvement and more, as with a factoring facility.
Improved intelligence for lenders
With eSync, lenders have access to much richer data than with traditional invoice finance facilities that rely on clients uploading CSV files:
Access to detailed information enables lenders to make better lending decisions and better support clients.
Access to updated ledger information throughout the month means lenders can spot and respond to client issues more quickly.
No need to wait until month-end!
A better experience for borrowers
eSync saves clients significant time and effort, compared to traditional invoice discounting facilities:
Getting started is fast and simple. Clients only need to connect their accounting system once and their facility is ready for action.
Unlike other invoice finance facilities, clients have no need to upload CSVs or input ledger data on a regular basis.
With our optional Xero Writeback feature, clients no longer have to enter collections and payments into their accounting system (Xero only.)
Increased visibility means lenders can funding decisions more quickly with reduced risk, thereby allowing them to increase the funds available to clients.
The [Open Accounting] technology is very simple to use and our clients love it. From that perspective, the accounting integration gives us an edge over the competition, because when clients move to us they're absolutely delighted and there's no way they're going anywhere else.

Corrie Lamb

Managing Director, Spenda
Frequently Asked Questions (FAQ's)
Can I offer the eSync product to all my clients?
Our Customer Success team will help you to assess which of your existing and new clients will benefit from the eSync product type, as part of your implementation in our lending OS.
What client accounting systems work with eSync?
eSync works with the online accounting systems used by the majority of SMEs in the UK and Australasia, including Xero, Quickbooks Online, ClearBooks, MYOB AccountRight and MYOB Essentials, Microsoft Dynamics 365 Business Central, Sage Business Cloud Accounting, FreeAgent, FreshBooks, KashFlow, Zoho Books, Exact Online (UK & NL) and Kashoo.
eSync also works with the Sage 50 and Quickbooks Desktop offline accounting systems used by many SMEs.
How can I find out more about eSync?
If you're new to Dancerace and want to understand how our eSync product type and wider lending OS can fit into your business, please complete our contact form.
If you're a bank or lender that already uses our lending OS and would like more information about eSync, you can access our Knowledge Base or contact support@dancerace.com for help from our Customer Success team.