Key questions for banks and lenders preparing to switch systems
For banks and lenders, choosing and implementing the right software systems is difficult. Knowing where to start is key. We advise banks and lenders to consider eight areas of their business before they begin their search for new workplace technology.
Discussing these eight points helps leaders to clarify their thinking and guide their IT teams' decision-making. It helps IT teams to understand the business context for transformation. And it helps to facilitate productive conversations between lenders and software vendors.
I've set out the eight key factors in this article.
It's a valuable resource if you want to choose a new system for your lending business, have considered switching systems or want to drive more value from your current software.
It's designed to be a starting point for technology transformation; one that elicits discussion and sparks more questions than answers.
The focus of this article is your business' core lending software systems (the dark blue elements in fig. 1) – those you use to manage your products and your clients use to access their funding account.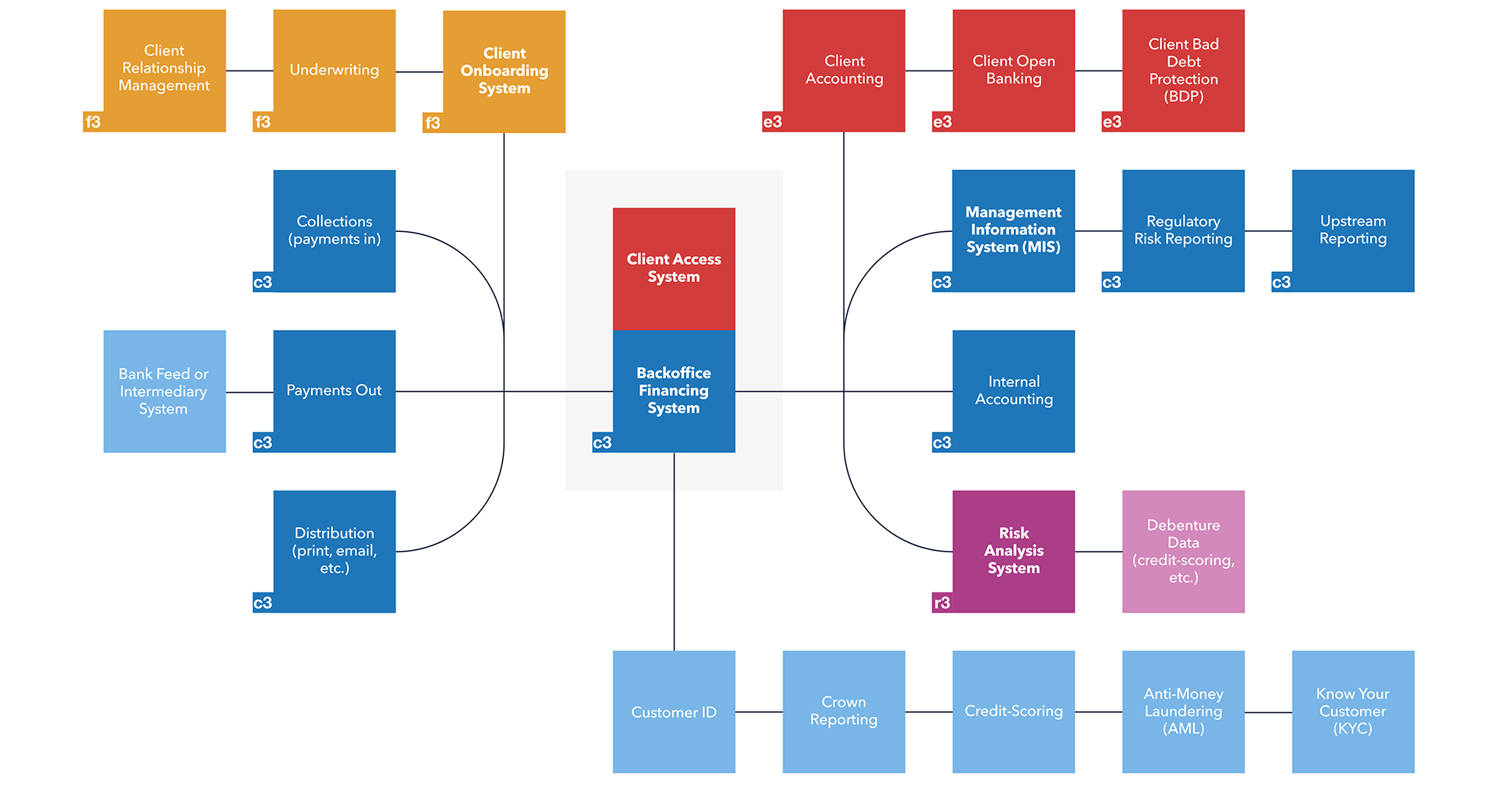 Focus 1: Strategy, Service & Model
To choose a system that will deliver long-term value, you should understand your five-year vision for your business, the products and services you will offer and how your business model is likely to evolve.
What are your business' objectives for the next five years and in what order?
What projects will enable you to achieve these goals?
In detail, what lending products and services do you offer today and what will you offer tomorrow?
Are your planned products similar to those offered by other lenders or are they unique?
What's your product delivery model? Is it hands-on or highly automated? Flexible or fixed?
What type of customer experience do you want to offer?
How important is digital technology and innovation to your customer experience?
How important is technological innovation as a differentiator for your business?
Answering these questions should highlight gaps in your business' plans!
Focus 2: Workflows
When it comes to digital transformation, the devil is in the detail. As a leader, you must understand how your business actually works today. With this detail, you can identify activities to be automated with software and explain how your new system should fit into and improve your employees' workflows in future.
In detail, what steps and systems do your employees take to deliver and manage your products and services today?
What workflows will be required to manage your future products and services?
What steps can be automated or simplified using software?
What KPIs and datapoints do you use to monitor effectiveness?
Here you're likely to find efficiencies and areas for improvement beyond software.
Focus 3: Upstream Requirements
If your business is part of a corporate or funded by a third party, your new system must be capable of providing reports and data needed upstream.
What datapoints are required for upstream reporting, and in what format?

Focus 4: Capacity & Commitment
By now, you should be clear on what's driving your software project and how it will affect your employees. These factors should guide your choice of software system and the type of software provider you'll want to work with.
What steps must you take before you switch systems, to prepare your teams and business?
What IT and non-IT projects will be slowed down or affected by your transformation project?
How will each team be affected by changing your systems? What are the risks?
How quickly must you implement your new system?
How will customers be affected if you switch systems? How will you manage this process?
Focus 5: Integrations & Infrastructure
As a minimum, your business should map and document the following, for reference:
The software systems you use for day-to-day operations and how these are connected. Fig. 1 provides an example system map for a large lender or bank.
Your hosting infrastructure and how it relates to your system map.
Your security setup and how it relates to your system map.
Your banking workflow – covering collections, payments, trust accounts – and how it relates to your system map.
Dataflows and data storage across your system map.
Focus 6: Features & Functionality
You should now be ready to start to list the features and functionality you require in your new core system.
The level of detail that you go into at this stage will vary from business to business. However, we recommended that you:
List your target features and functionality under the following headings: systems, hosting, security, reporting, customisation, white-labelling, dataflows and data storage.
List the parameters you want to control for each of the product workflows mapped above. For example, consider:
How will you process outbound payments? In real-time or following a cut-off?
Will you pool collected cash into trust accounts or sweep bank accounts and match payments and transactions?
Will you run full or selective debtor facilities? Will you allow your customers to choose between these two types?
Give a MoSCoW rating for each of your requirements. This is important for evaluating software vendors.
Circulate, discuss and build consensus on your list from the heads of different teams in your business.
The last point is important. You don't want to spend time and money implementing new systems, only for them to be rejected by employees because the systems don't 'fit' the reality of their role.
Armed with the details above, discuss the following with your IT team:
What systems or functions should be added over the next 5-10 years, based on your answers above?
What systems might be consolidated or safely removed?
What systems will be affected when you replace your core system, and how?
How will you connect unknown systems in future, such as bank feeds?
Does your banking provider offer the technical support you need to achieve your roadmap. For example: do they provide automatic trust accounts?
By now, you should have the outline of a system spec with which you can start to evaluate software options in the marketplace.
No single software vendor will offer everything you're looking for. If they say they can, be suspicious. You should provide them with a list of your target functionality and setup and let them explain if and how they could support your target model.
Focus 7: Data
Migrating data from one core system to another is, for many lenders, among the most stressful aspects of implementing a new core system. Your software vendor should have a proven model for data migration and be ready to discuss options to help form your migration strategy. Ask yourself:
What data do you need to move into your new system? Do you need your open balances or your historical portfolio data too?
Where should your data be stored?
In future, how often and in what systems will you need to access your historical data?
Focus 8: Support
Finally, consider what type of support you'll need to implement your new software, train your team and for system maintenance and support in future.
Some lenders and banks hire technical consultants; some rely on their software vendor; others build teams of product specialists to own transformation within their business.
Software companies' models vary. Some are vendors only, delivering and hosting software and little more. Others are software providers, offering advice on how to achieve your technology strategy and to adapt your system in future.
What types of activity will be required at each stage of your transformation? (For example; quality assurance, user acceptance testing, training, etc.)
What internal and external teams will you therefore need to manage your transformation, maintain your systems and drive maximum value from your new systems over the long-term?
Are you likely to require significant bespoke development of an off-the-shelf software system? How will you manage this?
Are there any accreditations or minimum requirements around the type of vendor you can work with, such as ISO certifications? Consider requirements set by your funding provider.
Testing transformation
By considering your business' vision, people, processes and system requirements, you can balance the potential disruption of implementing a new core system against the long-term value of your new software.
In answering the questions above, you may even find that software isn't what needs to change in your business. It may be your business itself!
Dancerace is the complete, connected software lending OS for banks and lenders worldwide. To find out more about our systems and to understand if they're right for your business, contact our expert lending team today.
A version of this article originally appeared in the 2023 World Factoring Yearbook, published by BCR Publishing.